Subtitle
How Gaelynn Lea Has Made a Lasting Impact on the Wimberly Library
Featured Image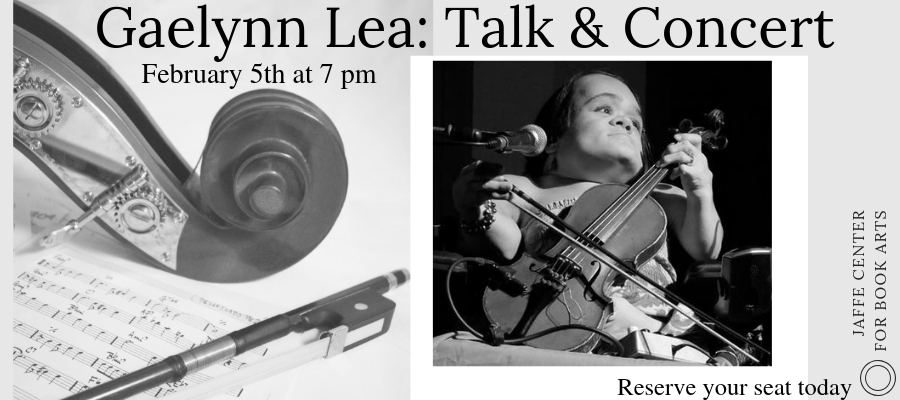 Written by John Cutrone, Director of the Jaffe Center for Book Arts 
Meeting new people can often lead to seeing things in a whole new way, and that's how it was when I first met Gaelynn Lea. She's the performing artist who won NPR's Tiny Desk Concert competition in 2016. As musicians go, Gaelynn was one of my favorites from the time I heard her perform "Someday We'll Linger in the Sun," the song that won her that NPR contest. She has the musical quirkiness that captivates me and places her in a category that includes Kate Bush, Jane Siberry, and Björk: artists with unique approaches to music.
For Gaelynn Lea, that unique sound comes out of dealing with a disability: She was born with Osteogenesis Imperfecta, or Brittle Bones Disease. She's been wheelchair bound all her life. To play violin, she had to adapt her approach, and so she plays violin upright, in the manner of a cello, and she makes use of looping pedal. The musical result is haunting, sometimes subtle, sometimes cinematic. Simply put: Gaelynn Lea is one of the finest and most interesting new musicians out there today.
Meeting Gaelynn for the first time last year helped me experience not just music in a whole new way, but also helped me understand my fellow human beings a bit better, too.
"Don't call me an inspiration," Gaelynn says. "The way your body is the way you experience the world."
So don't think she's amazing because she has overcome her disability; she hasn't. But she's done what we all strive to do: Be the best we can be with what we have to work with. Some of us get to do that with the use of all our limbs and all our senses; others don't.
Since winning the NPR Tiny Desk contest three years ago, Gaelynn Lea has been on tour throughout North America and the UK, and she's just released a new album, "Learning How to Stay."
She comes to the intimate setting of the Book Arts Gallery at FAU Libraries' Jaffe Center for Book Arts for a concert and talk about accessibly in the arts on Tuesday evening, February 5th. She's traveling here from her hometown of Duluth, Minnesota, embarking on her first tour of the Southeast.
Jeremy Ylvisaker probably says it best when he describes Gaelynn Lea as "Velvet Underground meets Little House on the Prairie." She's fun and funky, goofy and cool. She's you, she's me, she's being the best musician she can be. If you can come see her, you'll leave with a full and open heart and some new ways of looking at things… and this, at its core, is what the Jaffe Center for Book Arts is all about.
Gaelynn Lea: Talk & COncert
Date: February 5th
Time: 7 p.m. 
Location: Jaffe Center for Book Arts (third floor east of the Wimberly Library)
*** Please reserve your seats BEFORE the event. Click here to do so!