Subtitle
By Kristy Padron, MLIS, Scholarly Communication Services Librarian
Featured Image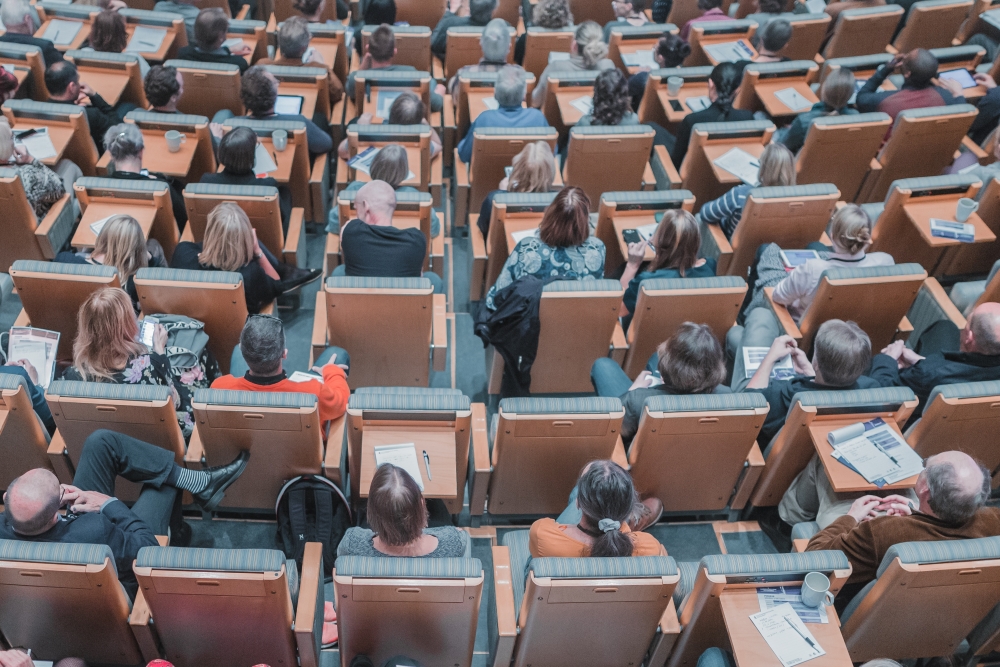 Image source: Conference attendees, by Mikael Kristenson. Permission by Unsplash.com license. https://unsplash.com/photos/3aVlWP-7bg8
In 2021, a library blog post described deceptive or predatory publishers.  They are defined as scholarly publishers who misuse the open access publishing model through questionable practices that may include the following:
Aggressive soliciting of manuscripts or submissions;

Poor (or absent) peer review;

Rapid turnaround or acceptance times (~24 – 48 hours);

Fabricated information such as its organization sponsor, bibliometrics, or editorial board.
Deceptive publishers often distribute information and research that did not undergo a full review process, which may add bad or low-quality information to a body of knowledge.
Deceptive or Predatory Conferences.  Scholars also receive invitations to present their work at deceptive or predatory conferences.  Many deceptive conference organizations are similar to deceptive publishers through their ethically questionable practices in solicitation, intent, and review processes.  They use near-identical practices as deceptive publishers and hold their events with the intent to profit from them rather than serve as a legitimate forum of discussion.  Deceptive conference organizations often target early-career scholars who are eager to get a professional conference presentation, although tenured professors also are solicited. 
As with deceptive publishers, deceptive conferences are not easily identified, and official lists of them do not exist.  To determine whether or not a solicitation and conference is legitimate, give it due diligence or some type of review of its attributes such as its organization, conference policies, planning board, topic coherence (that is, the disciplines and topics are related), and sponsors.  These conferences may provide sketchy or incomplete information and lack reputable professional sponsors.  Think.Check.Attend.Org also has a good checklist to help evaluate a conference.
See this registered nurse's experience with speaking at a deceptive conference. She had to pay full costs for attendance and realized she was misled along with other unwitting attendees. She said she was unable to use this presentation on her curriculum vitae and also described the professional embarrassment she felt. 
If you have any questions, feel free to reach me at kpadron@fau.edu or refer to the Deceptive or Predatory Publishers Research Guide for pointers.