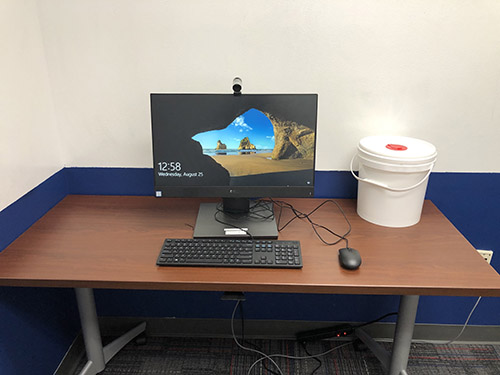 The FAU Libraries are now offering two private meeting spaces for students looking for a quiet place to conduct a virtual meeting. 
Our two conference suites are located on the fifth floor of the Wimberly Library and can be reserved by filling out the reservation form. Students can request the room for individual use for one hour per day. Each room is equipped with a web camera and software for numerous video conferencing platforms such as Zoom, WebEx, MS Teams, Google Hangouts, etc.
Once the reservation is set, students can pick up the key at the service desk. We ask that the key be returned to the service desk on or before the time due.
Please note that our conference suites differ from a traditional study room. The suites are designed to provide a space for students looking to host or attend a virtual meeting with a professor, academic advisor, or university service provider. This is also a great space for a student attending a virtual interview or working with a group for a project that meets remotely. 
For more information about our study rooms and other study alternatives, visit our Fall 2021 page.