Featured Image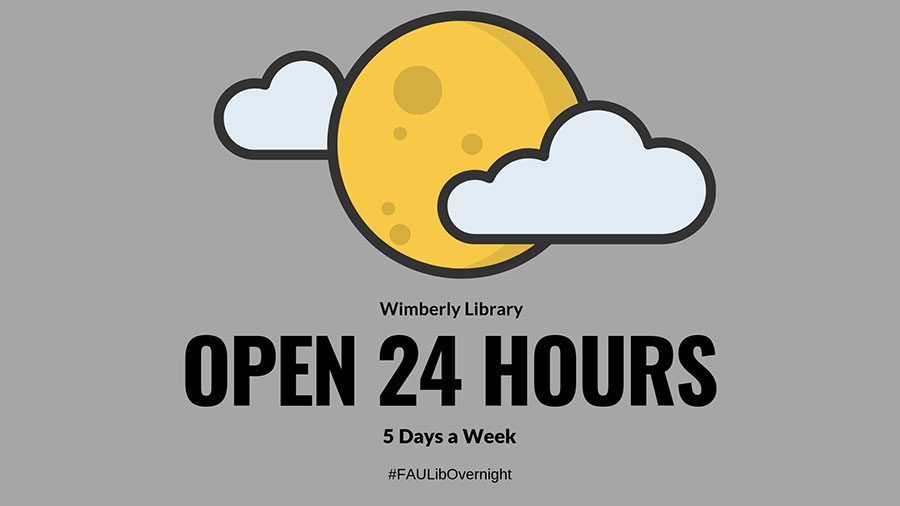 BOCA RATON, FLA. (February 8, 2019)— The Wimberly Library is now open 24 hours, five days a week!
Throughout the trial period, the library will open at noon on Sundays and remain open until 6 p.m. on Fridays. Saturdays the library will open at 10:30 a.m. and close at 6 p.m. 
All library users, who enter or want to remain in the library from 10 p.m. to 7:30 a.m., must be currently enrolled students, faculty, or staff at Florida Atlantic University or Palm Beach State College. Library patrons must also have a valid FAU ID (Owl Card) or PBSC ID (Panther Card) in their possession.
Those without a valid ID, will not be able to enter or remain in the library. This policy will be a strictly enforced in order to ensure the safety of our patrons.
During the extended hours, we want to see who our night Owls are! Use the hashtag #FAULibOvernight for a chance to be featured on our social media accounts.
This initiative wouldn't be possible without the continued efforts by Provost Bret Danilowicz, VP of Student Affairs Corey King and FAU's Student Government.
Happy studying!