Featured Image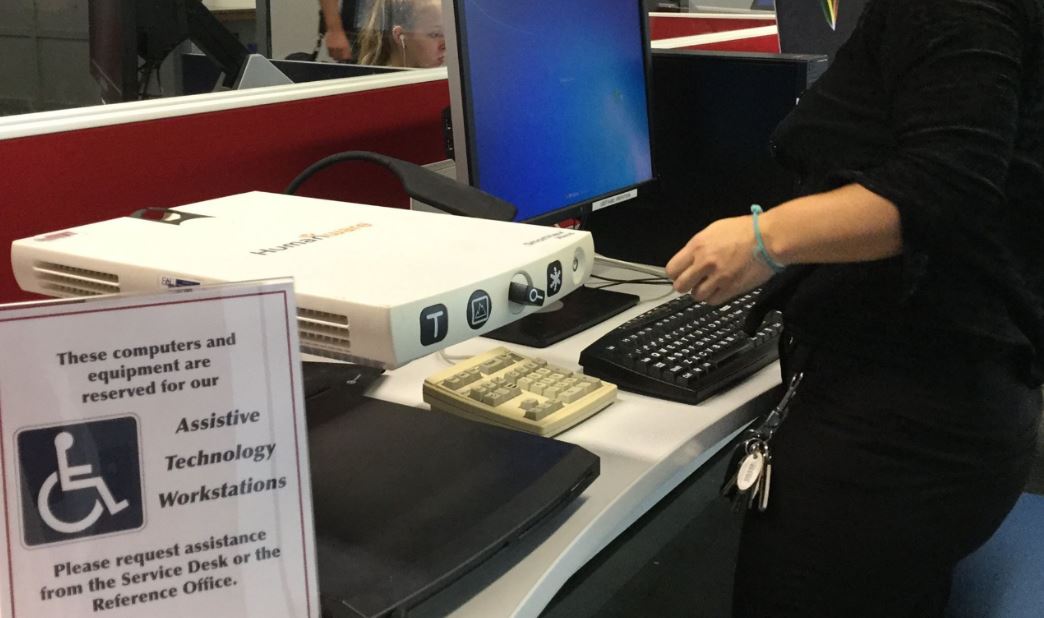 Physical Accessibility
Safe and accessible parking is provided near the library entrance with level walkways and gradually sloping ramps leading to the front doors. A mechanically operated entrance/exit door is available for access by those with physical disabilities. Within the building, handrails are provided on stairways, rest rooms are designed for ready access, and lower mirrors and drinking fountains are available for wheelchair users. Braille floor numbers are mounted next to floor selection buttons in elevators.   
Assistive Technology Workstations in Reference Area
The S.E. Wimberly Library has two assistive technology workstations available for use by persons with disabilities in the Reference Department. The equipment, which has ADA compliant software, is set up on study carrels with extra high table tops to accommodate persons in wheelchairs. The workstations are set back-to-back just outside the east door of the Reference Offices (LY157). This equipment is reserved for persons with disabilities and a password from the Reference staff is required to operate these PCs. This equipment is located in the reference area to insure that students with disabilities have easier access to the equipment and that assistance by reference staff in its use is readily available. If you need instruction on the use of this equipment, you may schedule an appointment with the reference staff by calling (561) 297-3785. Adaptive technology software available on both these assistive technology workstations computers includes:
Dragon Naturally Speaking
Dragon is speech recognition software that's easy to use and accurate.  The software has three primary areas of functionality: dictation, text-to-speech and command input. The user is able to dictate and have speech transcribed as written text, have a document synthesized as an audio stream, or issue commands that are recognized as such by the program.

Kurzweil 3000
This software enables a scanner to scan any printed text--right side up, upside-down, or even multiple columns--from magazines, books, or photocopies through the use of Optical Character Recognition (OCR). The software then reads it out loud. Certain keys come programmed to stop reading, spell words, resume reading and other functions. The software reads everything that appears on the monitor, even the commands from drop-down menus. Some of the customized settings offer a choice of voices and reading speeds. Earphones are available at the Circulation Desk to allow for privacy. 
 

JAWS for Windows
This program reads out loud everything that appears on the monitor with its own speech synthesis named Eloquence, allowing an individual with any visual impairment to have access to the Internet and electronic databases. Certain keys come programmed to stop reading, spell words, resume reading and other functions. The software reads everything that appears on the monitor, even the commands from drop-down menus. Some of the customized settings offer a choice of voices and reading speeds. Earphones are available at the Circulation Desk to allow for privacy. 

ZoomText
This software is a magnifier that allows individuals to view the computer screen by use of electronic magnification and color sensory imaging.
In addition the library has also purchased:
Dolphin Easy Reader
EasyReader is an accessible software ebook reader, allowing users to read and listen to content through a combination of text, speech and images. EasyReader can be used by absolutely anyone who enjoys reading books with highlighted text and speech. (located on workstation 1)
 
Plustek Book Reader V100 Scanner
Intergrates high speed scanning with book edge design, natural voice synthesis (for read back) and highly accurate text to speech and optical character recognition (OCR) functionality.  To create an audio file, the user simply places a book or document on the scanning platform, touch the button and the printed words are turned into audio files which can be saved in multiple formats. (located on workstation 1)
 
SmartView Xtend video magnifier
This magnifier is connected to a personal computer and has split and toggle screen capabilities.  Controlled by either a Keypad or Footswitch.
 
Assistive Technology Equipment Available for Check- Out in the Media Center
Eschenbach Electronic Magnifying Glass
For hand-held or contact use. It has a large 5" LCD TFT display provides 5x, 7x, 9x, or 12x magnification (even less when used in hand-held mode) along with 5 different viewing modes that include full color, black on white, white on black, black on yellow, and yellow on black.  Illumination is provided by 2 hi-tech SMD LEDs and the tactile control buttons are easy to understand and use.  Images can be captured and up to 20 can be stored.
Victor Reader Stream (New Generation)
A handheld, highly versatile audio book reader, music player, and digital audio recorder for the blind and visually impaired.  It will play DAISY books, MP3, MP4, EPUB, and many other media formats. Records voice and media with built-in microphone or line-in. Two built-in, human-sounding voices for a pleasant text-to-speech experience along with built-in wireless networking capability.  
Other Special Services
People are encouraged to ask for basic library instruction at the Reference Desk. If the Reference Desk is not staffed, other library public service staff members will provide reference assistance to the best of their ability.
FAU students, faculty, and staff, as well as PBSC South Campus students, who require more in-depth instruction in the use of the library and its services may schedule by appointment a library consultation with the Information Literacy and Instructional Services Department. Click here to request a consultation.
The staff of Access Services (Circulation/Reserve/Current Periodicals & Microforms) will assist students with disabilities by retrieving materials and photocopying materials as needed. Requests for assistance will be handled by staff within 15 - 30 minutes after a request has been submitted. However, if staffing at the desk is limited or the staff cannot assist the student at the time of a request, the student and the staff will mutually agree upon a time shortly afterwards when the student may best be assisted. Please note that staff will be best able to provide assistance 8am to 5pm, Monday through Friday.
The Media Center has 20-inch TV/VCR monitors with closed captions, as well as other wheelchair-accessible a/v stations.
Special Collections is located on the second floor, east wing.  The hours are Monday to Thursday 1-4 pm or by appointment.   All collections are stored in closed stacks; materials are paged for use in the Special Collections reading area.  Staff will assist users with disabilities as required and will provide copies of materials should a disabled user wish to read at an assistive device.  Unaffiliated users will be asked to reimburse the costs of photocopying or scanning. 
To read about ADA Services provided at the FAU MacArthur Library in Jupiter, click here.
All FAU students with disabilities are encouraged to register with the Student Accessibility Services. Telephone: (561) 297-3880, Monday - Friday, 8am -5pm.
---
Questions regarding public service policies should be directed to Dawn Smith, Assistant Director of Public Services.