At this time our library facilities remain closed due to COVID-19. However, FAU Libraries' faculty and staff are working remotely to support virtual teaching, learning, and research. While we can't give you full access to our renowned library collections in person, we still wanted to be able to show off items virtually that have history and importance. That's why we've asked library faculty and staff to share pieces of their personal collections and explain the meaning behind the object.
This week Dean Carol Hixson and library staff members dug up some pieces from their at home collections. Below you'll see what object they've selected and the story behind it. 
Carol Hixson- Dean of University Libraries 
My maternal grandmother and two of my aunts were skilled knitters and crocheters. My grandmother made delicate doilies,
baby sets, baby blankets, potholders, and more. My two aunts were equally creative and branched out into other types of handiwork. I have Christmas stockings, tissue boxes, Christmas decorations, and much more that they gave me over the years. each of those objects are my treasures. I learned to crochet a single stitch chain of yarn from a friend when I was about 9 years old. The rest, I learned on my own by reading books, following patterns or by copying something someone else had made. I never learned to knit but I did some limited quilting, as well as working in some other media. In high school, I made many of my own clothes until I sold my sewing machine in college to help pay my tuition. For a year in my mid-twenties I lived in Brazil and I earned some money by doing lace crocheting of tablecloths, doilies and blouses. This picture represents some of the handiwork I currently have in my home. Some of these items are mine that i made for myself and others are destined for other people once the pandemic eases up and I can get them to a post office for mailing. This is my creative outlet. Doing handiwork now keeps me sane, calms me down, and gives me pleasure.  This is what I have to show I was in this world. 
RJ Stamper - Director of External Relations 
It took me working from home during this pandemic to be reminded of one of my favorites possessions. Growing up one of my heroes was my grandfather. I was lucky enough to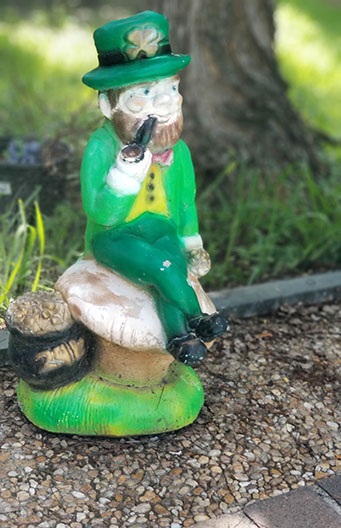 grow up a couple of cities away from my grandparents, so they were able to support me at school and sporting events as a child. I would often vacation with my grandparents and spent so many holidays with them. Our Irish roots run deep with both of my grandparent's families coming to the US from Ireland.
One year for Christmas, just before he passed away, my grandfather gifted all of his children a leprechaun statue. My mom displayed this statue in our back yard and it became a symbol of my grandfather's love of his family and dedication to his heritage. After college I asked my mom if I could have that statue to continue displaying it in his memory. For several years that statue has been on my back porch.
One day recently, while I was working from home, my mind drifted from the laptop in front of me as I surveyed my surroundings. I caught a glimpse of that statue and immediately remembered the times my grandfather was sitting in the stands watching me play baseball in little league. I thought back to all the happy memories, how such a big, strong man could have such a caring heart. It's been 19 years since we said goodbye, but thankfully I still have this silly looking leprechaun to bring his memory, and a smile to my face.

Tinessa Callinan - Library Events Coordinator 
I like to keep things simple. I try not to collect tangibles. I didn't keep my high school yearbook and I've questioned whether I really need to keep my wedding dress. As a daughter of Mr. Clean in a military family, you just learn to keep things minimal. That's why this photo of a collection I have is so personal. These are some of the letters my boyfriend, now husband, wrote me during his time at the Naval Training Academy. During bootcamp, cell phones and computers were not allowed. The only form of communication we could have was through letters.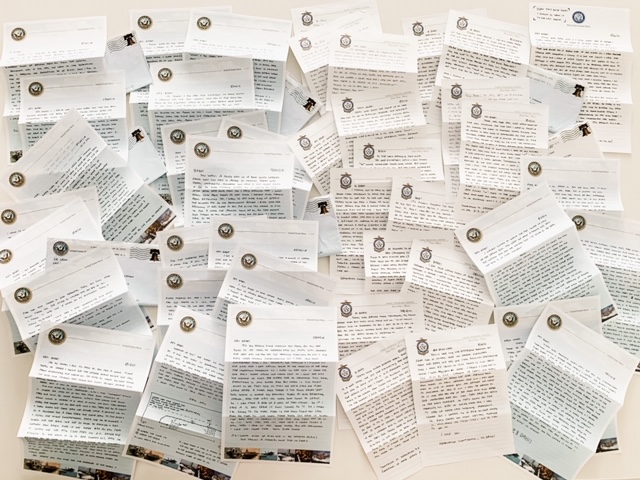 These letters remind me of the love we have for each other and the appreciation we have for service members, many of them being members of our family. They remind me to be present during our time together and to collect memories, rather than things. Thankfully, this collection fits in a small plastic envelope.
Minimalism is just about being intentional and handwritten letters are a perfect example of this. You have a limited number of square inches to work with and you likely don't want to make mistakes because you're writing in pen. You're forced to be intentional with your words.
When the libraries reopen, stop by on the first Friday of each month for the Jaffe Center's Real Mail Friday event and send someone special an intentional piece to add to what may be a mini, but meaningful collection.